"Hurrah! Bravo!  and other exclamations after seeing Once Upon a Mattress!  The set was magnificent! I loved your directing…..timing was everything and you didn't miss a beat."
-Georgia Thurman, Hanover, IL
"Galena and Dubuque are enriched by your dedication to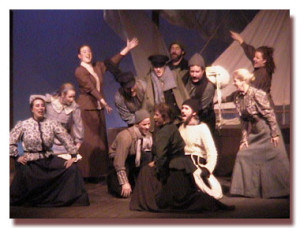 theatre" (The Christmas Schooner)
-Helen Johnston, Dubuque, IA
"Every aspect of The Christmas Schooner was professional and entertaining.  I was moved to tears."
-Judith Wehrle, Galena, IL
"Nice to see such high production values."
(The Christmas Schooner)
-Mary Auman, Galena, IL
"Your Light Up the Night musical  program was the most enjoyable, most entertaining, totally awesome evening we've
had in years!"
-Joe and Karen Crowley, Dubuque, IA
"What an outstanding performance!  Those who did not attend missed the stellar event of the year!" (Light Up the Night)
-Dr. Walter Peterson,  president, University of Dubuque
"Light Up the Night  was nothing short of spectacular."
-Charles Grisham,  Shreveport, LA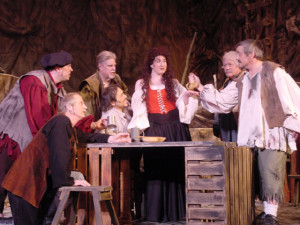 "The casting and direction for Man of La Mancha was terrific, and the set was imaginative and worked perfectly. I cried at the end but we both left feeling very happy."
-Jenni and Bryan Ackerman, Galena, IL.
"Your hard work, talent, humor and creativity have
enriched our lives immeasurably."
-Jerry Kaiser and Maureen Peiffer,  Chicago, IL
"Wow!  We attended the performance of Oliver and must say we were transported and delighted.  Kudos to the clever set designer."
-Letter to the Editor of the Telegraph Herald, Dubuque, IA
-June and Paul Streuber, Dubuque, IA
"Jan Lavacek has created a truly stunning set for this play"  (Foxfire)
– Carmen Ferguson, Galena, IL
"You are a true professional—dedicated and a hard-working, persistent and talented lady".
-Dr. Wilbur Johnson.
Feedback From Cast Members
"I've never before worked with such a large cast that operated as an ensemble."  (Our Town).
"Thank you for your vision and the countless hours dedicated to bringing such quality theatre to the Tri-State area."
– Cheri Kraske, Dubuque, IA
"The trust in your taste and discretion, and the confidence that no important detail would be overlooked are luxuries that we enjoyed."
-Pat  and Joe Terry, Galena, IL
"You have been a constantly constructive, gentle leader.  Thank you for about 2000 things."
-Jill Heitzman-Carlock, Hazel Green, WI
"I especially appreciate how much you taught through your gentle but pointed direction."
-Jim Ott, Galena, IL
"Jan, your kingdom (Once Upon a Mattress) is truly magnificent!"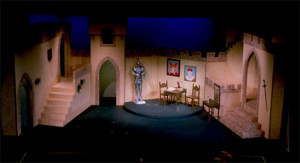 -Molly and Terry Hoefflin, Dubuque, IA
"You should be very proud of the theatrical experiences you're creating for the folks here in the Tri-States."
-Ginny Darby, Dubuque, IA
"It's been an incredible experience.  I've learned so much about acting…and about myself.  You challenged me so much and I am so grateful."  -Heather Rosenthal, Galena, IL
"You run a first-class operation!"
-Lottie Cusimano, Galena, IL