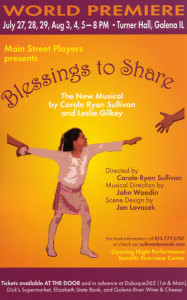 This joyful and thought-provoking musical explores the subject of adoption in nontraditional families. Can two men successfully parent a child? Is a single Mom enough?
Original Cast CD's now available!
David…………….Brian Schoenrock
Alan………………Tim Bauman
Julie……………….Emily Painter
Mrs. Brickner….Lisa Lenstra-Norman
Melissa…………..Nala Burroughs
JoAnne………….Carrie Johnson Burroughs
Reviews:
"….a new musical that beautifully tells the story of a lonely child

…searching for a family under the most difficult circumstances….a story of shared dreams and mixed blessings.  Sullivan and Gilkey's tightly constructed script and delightfully orchestrated score gave the entire production a professional depth…"
Edith McCauley, Rock River Times, Rockford, IL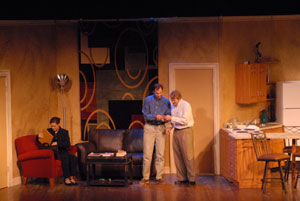 "…..Charming musical….unusual…. an intriguing story concerning the adoption of children by nontraditional  families……(it was) remarkably successful.  Watch for future productions of this new work; it should be produced often."            Bill Beard, Belvidere Daily Republican, Belvidere, IL
The History of "Blessings to Share"
Carole collaborated with Leslie Gilkey on the musical Blessings to Share, about untraditional families and adoption in the 21st Century.   The show was produced by Main Street Players Theatre Company July and August of 2006.  Jan Lavacek designed the set and lighting.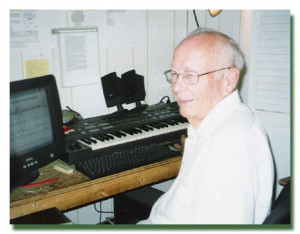 Award winning composer Leslie Gilkey composed many of the songs, and arranged and orchestrated all of the music in "Blessings to Share". Les has composed choral works that have been performed in many parts of the world He has also created numerous compositions and arrangements for flute choir, as well as many band and orchestral works and arrangements. He received the Meritorious Service Award from the Governor of Indiana, and in 1998 received the Outstanding Hoosier Musician Award from the Indiana Music Educator's Association.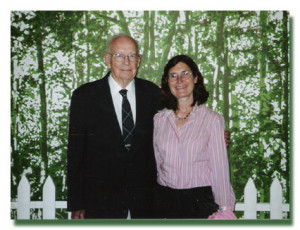 Leslie Gilkey was Carole's music teacher at Waukegan Township High School. They have joined forces to write "Blessings to Share". The play was written over the last two years, with Carole and Les communicating almost completely through the Internet. They both say that the best blessing of all was being able to work together on this musical.
Although Les lives in Indiana, he attended the opening weekend of performances of "Blessings to Share"  and enjoyed  seeing other friends and students there.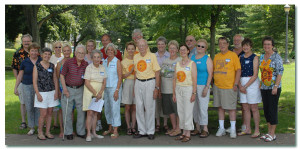 Friends from across the country joined together for a picnic honoring Leslie Gilkey and Carole.